A recently constructed building needs proper treatment to eliminate debris, dust, and harmful particles. You need a professional team of cleaners and especially equipment to do the job, and Calmaids has all of that.
Following a strict process with several stages, we make sure your place is ready to be inhabited. We first get rid of all visible debris like tape leftover, paint stains, and plastic protectors. Then we focus on the dust, using an advanced vacuuming system, and returning for a second session if needed.
Don't put your health at risk! Call Calmaids and let the professionals handle that last step of the construction. Our team of cleaners is well-prepared, fully insured, and with the right attitude.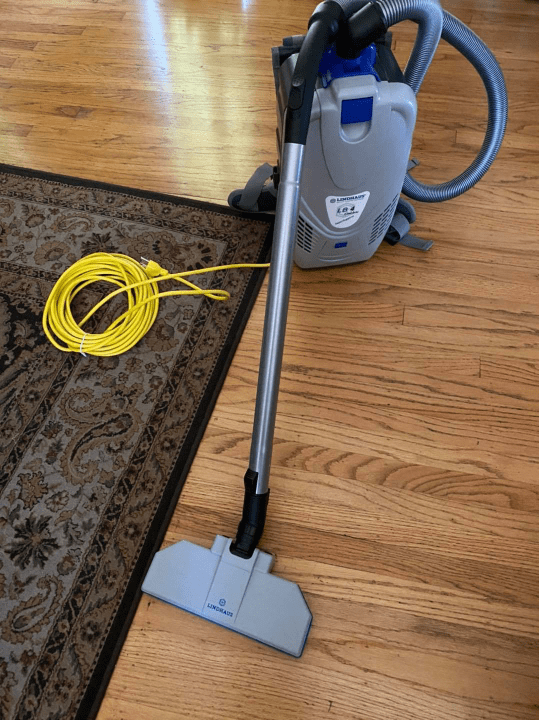 All of our cleaning technicians are trained to deliver a great cleaning by following our
detailed cleaning checklists
Regular Cleaning
All Rooms
Ceiling to floor dust of horizontal surfaces including ceiling fans, window sills, baseboards and everything in between (*books and excessive clutter not removed)
General "neaten" of pillows, throw blankets, etc.
Beds made; 1 change of sheets included in all cleans
Dust blinds
Trash emptied
All floors vacuumed
Hard floor surfaces wet mopped and sanitized
Bathrooms
Ceiling to floor clean of horizontal surfaces
Clean mirrors
Dust all reachable light fixtures
Dust blinds
Spot clean cabinet fronts
Clean and sanitize counters and sinks
Scrub and sanitize showers and toilets, hard water removed to the best of our ability
Objects on counters moved, cleaned, returned to place (excessive clutter not moved)
Trash emptied
Floors vacuumed and hard floor surfaces wet mopped and sanitized
KITCHEN
Outside of cabinetry spot cleaned
Items on countertops dusted, moved, returned to place (excessive clutter not moved)
Clean and sanitize all countertops
Clean inside and outside of microwave
Clean and polish outside of all appliances
Clean and sanitize sinks
Trash emptied and bag replaced
Floors vacuumed
Floors wet mopped and sanitized
Extras (Additional Charge)
Inside of oven
Inside of refrigerator
Hand wipe blinds (we do not guarantee the results of this on old or brittle blinds)
Hand clean / scrub baseboards
Changing additional beds
Deep Cleaning
Customizable
This is our "a la carte" cleaning service. You decide how many hours you would like us to clean (up to five labor hours) and choose which rooms you would like cleaned. We do our best to work through your list in the time allotted.
Move In/Out Cleaning
All Rooms
Ceiling to floor clean of horizontal surfaces including ceiling fans, window sills, baseboards and everything in between
Clean interior of all bedroom closets and linen closets
Spot clean marks on walls
Clean interior glass on the front door or sliding glass doors
Dust exterior of heating/cooling vents
Doors and door jams cleaned
Light switches & door knobs cleaned and sanitized
All floors vacuumed
Hard floor surfaces wet mopped and sanitized
Bathrooms
Ceiling to floor clean of horizontal surfaces from light fixtures to baseboards
Mirrors cleaned
Clean and sanitize sink and counters and fixtures
Clean cabinet fronts
Clean and sanitize interior of all cabinets and drawers
Scrub and sanitize toilets and showers/tubs. Hard water and excessive build up removed to the best of our ability.
Doors and door jams cleaned and sanitized
Light switches & door knobs cleaned and sanitized
Floors vacuumed and hard floor surfaces wet mopped and sanitized
Kitchen
Exterior of all cabinets and drawers hand cleaned
Exterior of refrigerator, oven, and all appliances cleaned. All stainless is polished.
Inside & outside of microwave cleaned
The wall behind stove cleaned; stove hood cleaned, grease removed to best of our ability
All countertops cleaned & sanitized
Sinks cleaned & sanitized
Doors and door jams cleaned
Light switches & door knobs cleaned and sanitized
Floors vacuumed
Floors wet mopped and sanitized
Extras (Additional Charge)
Inside of oven
Inside of refrigerator
Inside of kitchen cabinets and drawers
Inside of kitchen pantries
Hand wipe blinds (we do not guarantee the results of this on old or brittle blinds)